TRAINING TO SHIP RECYCLERS
IRCLASS DELIVERS CUSTOMISED TRAINING TO SHIP RECYCLERS AT ALANG TO ENHACE SAFE WORK PRACTICES

Background

India is a world leader in ship recycling. Despite a number of improvements brought about in working conditions over the years, the image of the ship recycling industry continues to be poor in matters of worker safety and environmental protection. 'The Hong Kong International Convention for the Safe and Environmentally Sound Recycling of Ships, 2009' (in short, the Hong Kong Convention or HKC), which was adopted at a diplomatic conference held in Hong Kong in May 2009, is expected to come into force very soon. Meanwhile, the European Union (EU) had gone ahead and spelt out its own guidelines for certification of Ship Recycling Facilities and corresponding training requirements.

Training Needs

With the increasingly stringent regulatory requirements – initiated by HKC and EU – coming into play, the Indian ship recycling industry is gearing up to enhance their safety standards through training of their personnel.
M/s Priya Blue Industries Private Limited, a company engaged in ship recycling in Alang, Gujarat, India, approached IRClass to deliver a suitable training programme to its employees. IRClass responded proactively to the emerging training needs by developing and delivering at site, a highly customised training solution. The programme aimed to enhance the awareness of the workers and supervisors with regard to the risks involved in ship recycling industry and to implement safe work practices.

Training Solution

Contents of the training programme included:
Fire Protection and Prevention
Safe Practices in Gas Cutting Operation
Safety at Workplace and correct use of Personal Protection Equipment (PPE)
Identification and Handling and Management of IHM
Prevention of Oil Spillage
Elementary First Aid
Practical Drills in Emergency Response and Fire-fighting and use of Portable Fire Extinguishers
Some of the key features of the delivery methodology or pedagogy were:
Presentation contents and classroom delivery in Hindi with minimal use of English
Pre-lunch sessions conducted in the classroom and post-lunch session on practical training at site
During site visits, focus on donning of safety harness and Personal Protection Equipment (PPE), ensuring that all the participants were appropriately attired
Closing sessions held in classroom at the end of each day of training, to recap the day's learning and also to discuss how work practices could be improved
Dos and Don'ts in workplace.
Experience sharing. The participants were encouraged to speak about risks they face in their day-to-day work environment and guided to identify mitigation measures
Success Story
The four-day programme was delivered at the site in Alang in Hindi in September/October 2016 by a faculty comprising a highly qualified and experienced marine engineer and a HSE expert. The training programme was received very well – as evident from the enthusiastic participation by the trainees, feedback received from the customer and subsequent requests received from other operators from Alang.
In November 2016, same training was delivered to the employees of a number of Alang-based ship recycling companies: Hooghly Ship Breakers Limited, RLK Ship Breaking Private Limited and Triveni Shipbreaking Company.
IRClass is proud to partner with the Ship Recycling industry and facilitate their transition to meet higher and more stringent standards of safety and environmental protection brought about by the emerging regulatory regimes initiated by HKC and EU.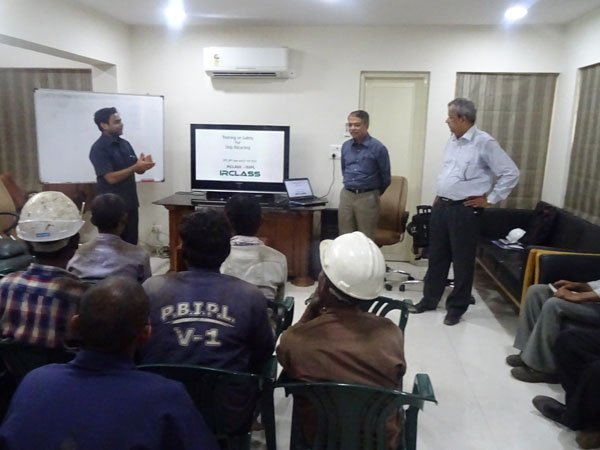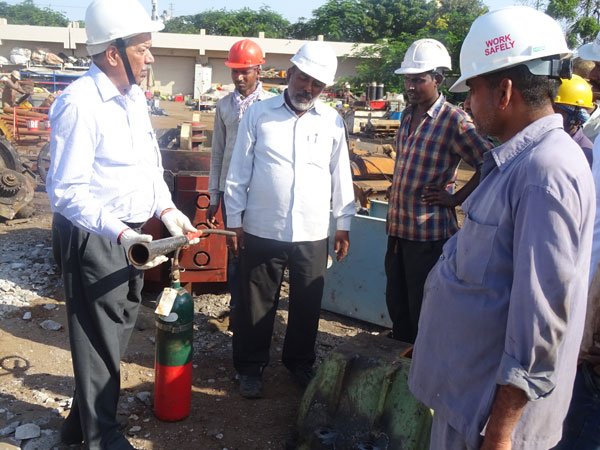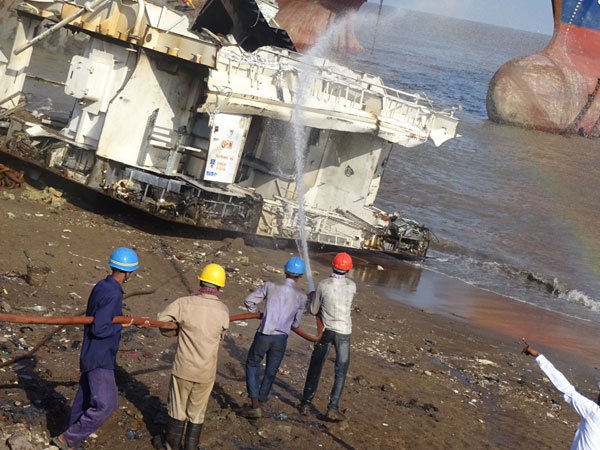 To know more about the management certification please get in touch with our business representative on 022 7119 9800 or send us the inquiry on irqs@irclass.org
Or Visit:- http://www.irqs.co.in/pdf/shipping-industry-guidelines-recycling.pdf
http://www.irqs.co.in/pdf/MEPC-210-63-2012-Guideline-for-SESSR.pdf

Site Office

IRCLASS Systems and Solutions Pvt. Ltd.
Hotel Het Palace
Office No-201 OPP Gopnath Restaurant Alang-Trapaj Road Near Alang
Police Station Alang
Manar Dist-Bhavnagar
Tel. No. : 02842-235044 Mobile No :+91 9662365557

Branch office

IRCLASS Systems and Solutions Pvt. Ltd.
A/304 Shri siddhivinayak Commercal Complex ,Farmji Compound
OPP Alkapuri Side Railway Booking office Vadodara-390007
Tel. No. : + 91 265-2321953 / + 91 265 2321954

Head Office

IRCLASS Systems and Solutions Pvt. Ltd.
52 A, Adi Shankaracharya Marg, New Wing, 2nd Floor,
Opp. Powai Lake, Powai,
Mumbai - 400 072
Tel. No. : + 91 22 3051 9800 / + 91 22 7119 9800
Fax No. : + 91 22 3051 9826

IRQS Ship Recycling
For Training, call+91 22 7119 9800
Establishing presence in Mumbai, Bangalore, Ahmedabad, Bhavnagar, Kolkata, Chennai, Delhi, Goa, Hyderabad, Kandla, Kochi, Pune, Bhopal, Vadodara, Tiruchirapalli,
Visakhapatnam, Port Blair, India, Sri Lanka, Dubai, China, Singapore, Thailand, USA, UK, Greece and Korea.
Indian Register Quality Systems (IRQS) offer certification services in India for ISO 9001 certification, quality management system,
ISO 27001, integrated, energy and environmental management system.
All right reserved by IRQS @ 2013